Entertainment
Russian Figure Skater Evgenia Medvedeva Met EXO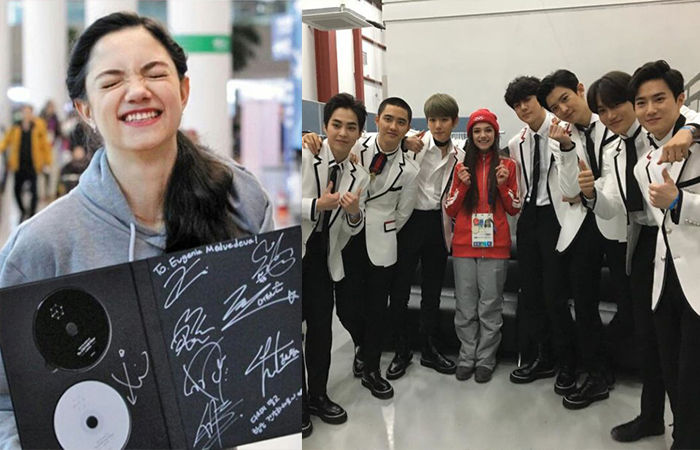 (L) online community / (R) instagram 'jmedvedevaj'
The 2018 PyeongChang Winter Olympics are sure to be an unforgettable memory for Russian figure skater Evgenia Medvedeva, not just as an athlete but also as a fan.
Evgenia Medvedeva has not been shy about her love for idol group EXO. In an interview during the Olympics, she spoke about how EXO inspires her and also expressed her hopes to meet the group while she's in Korea. The idol group had reciprocated the sentiments, with member Baekhyun stating in a phone interview that he would love for EXO to meet her if they had the chance.
With EXO and Evgenia Medvedeva hoping to meet, their wishes became a reality on February 25, the last day of the 2018 PyeongChang Winter Olympics.
KBS
EXO was there for their closing ceremony performance, as well as for the meet and greet event they planned for the athletes who participated in this year's events.
Evgenia Medvedeva posted a photo of their meeting on her Instagram account with the caption, "Dreams come true," as well as the hashtags, "#EXO, #EXOlympics."
Ok. Just leave it here. pic.twitter.com/DWIOlpjalP

— Evgenia Medvedeva (@JannyMedvedeva) 2018년 2월 25일
She also shared a photo of a signed 'EXO Planet #3 The EXO'rDIUM dot in Seoul' DVD she received from the group, which included the message, "Be careful not to get injured and always be healthy!"
The Bangkok airport was completely packed with fans welcoming Black Pink.

Wanna One was trapped and unable to exit their van to head in for their 'Music Bank' rehearsal due t...

Girls' Generation's Yuri shows up her heartwarming friendship with Park Shin Hye through a photo of ...